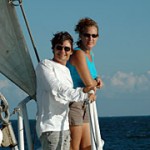 Contact Information:
About Captain Thomas and "Admiral" Linda and the building of sailing ship "Ciganka"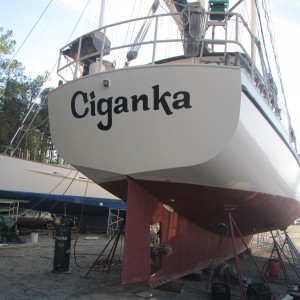 We have lived aboard a sailboat, full time for the past 42 years. We have never had a house on land. Our sailboat has always been our home and where we are anchored is our backyard. This is what we have chosen as our way of life. And for us, part of the joy of this life style is sharing this experience with others. Our first sailboat was a 34 ft. fiberglass Lee Creekmore design that we built ourselves. We "cruised" and lived on that great boat for 16 years. As we sailed the Bahamas, the entire Caribbean, South and Central America,
Thomas' vision for a bigger boat was forming. Thomas ended up designing a 78′ steel sailing ship. Then his game plan was that he would build this boat full time by himself while Linda worked to make the money for this huge project. We ended up on a wonderful piece of property on the coast of North Carolina to begin building. As all this is coming together Linda asked Thomas "Ok you are going to build this boat all by yourself. Seriously, how long do you think it will take you to finish building it?" Thomas' exact response was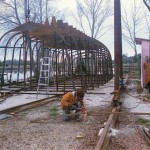 "Three years tops!" Well, 9 years later, we finally set sail on our maiden voyage! We named her, "Ciganka", which means "Gypsy Girl" in Czechoslovakian. It took a lot of hard work, focus, commitment, money and time and we built an incredible sailing ship.
This link below shows you pictures of the building of Ciganka and her interior.
Check out our photos of the building process
One of the reasons we built a bigger sailboat was so we could have groups of people on board to share these wonderful sailing adventures and experiences. We would enjoy having you and your "crew" on board for the experience of a lifetime that will make you wanting to come back again for more! That is why we have a 92% return rate with our groups! This is our 18th season in the Abacos running Youth Group charters. Several of these groups have now been on board 5 times! It is such a blast! We are so thankful and grateful.
Captain Thomas has had his 100 Ton Auxiliary Sail Coast Guard License for 42 years. And for most of these years he has been a charter captain earning a reputation of giving "the BEST" possible experience for each and every group! He is also an incredible and patient teacher in all aspects of sailing, knot tying, snorkeling, navigating, boat building, and sail making. "Admiral" Linda has earned her "five stars" in cooking unbelievably delicious meals always having enough food for seconds and thirds!
Please feel free to Contact Us now to setup a trip and follow our adventures on Facebook!
We look forward to having you on board with us for the sailing adventure of a lifetime!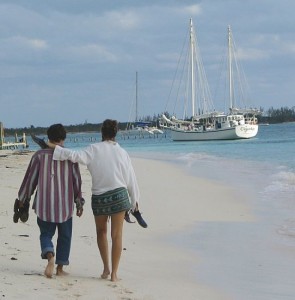 Captain Thomas & Linda