Trip Info for Youth Groups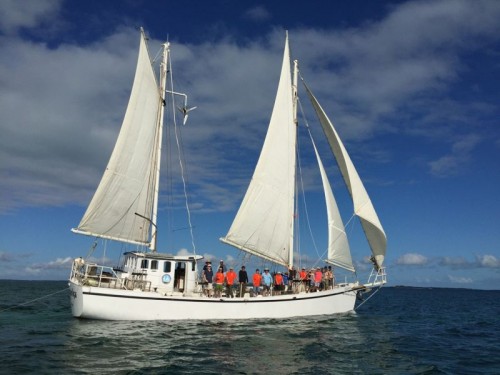 Are ready for a high adventure?  Because this is what you will get on board Ciganka! That is why 92% of our charter groups come back to sail with us again! Experience a true sailing adventure on the only tall ship in the Abacos, Bahamas! We are celebrating our 21th season with over 325 groups having been on board for this amazing experience.  Thanks everyone!
Cost:
The cost is $1,000 per person for the charter. This is a 6 day charter arriving on Friday and departing on Thursday. The total cost for your charter = the number of people in your group x $1,000 per person.
This price includes all the food, beverages, snorkel gear, fishing gear, water, ice, fuel, and 4% tax we have to pay to the Bahamian government.
We do guarantee that this will be the trip of a lifetime and will do our very best to make this a priceless experience you will carry with you forever ~
What is NOT included:
1.Your round trip airline ticket
2. Departure Tax –  As of April 1, 2012 there is a $37 departure tax BUT usually this tax is already paid in your airline ticket so ask your airline carrier.
3. Taxi fare from and to the Marsh Harbour airport ($5 per person each way = $10 total per person)
4. One evening meal ashore at one of the island restaurants. This is always a FUN night out! Plan on around $20 to $25 per person.
Information:
Group Size— A minimum of 15 people are needed to book a charter and our maximum is 22 people.
You fly into Marsh Harbour, Bahamas on Friday, the beginning date of your charter, and you will fly out the following Thursday. Ciganka will be ready for her crew to board at 2:00 PM. on Friday.  Your departure time should be by noon the following Thursday.
Smaller Groups:
Please contact us if you cannot make the minimum number of people to set up a charter. We will work together to make this happen for your group. Contact Us and let us know the size of your group.
Food:
We believe delicious food is an important part of your experience on board. And "Admiral" Linda loves to cook! So get ready for slow cooked roast beef with potatoes, NY strip steak, BBQ chicken, spaghetti dinner, homemade pizza, Ghirardelli chocolate brownies, homemade cherry cobbler, chocolate cake, fresh fruits and vegetables, macaroni and cheese, and scrumptious hearty breakfasts to get our day started. And there is plenty of food for everyone…even for seconds…and thirds!
Sleeping arrangements:
You will be sleeping on deck enjoying the starlit sky!  There is no light pollution so the night sky is incredible.  If it rains, there is room to sleep down below inside the ship.  We have room to hang 8 hammocks outside on deck if some of the crew wants to bring a hammock in addition to their sleeping bag and pad.  Make sure your sleeping gear will keep you warm!
Showers:
Get ready to experience a "Joy" shower at the end of the day.  You will wash in the salt water and rinse off with fresh water. So you will be squeaky clean!
Air Conditioning:
The air conditioning will be available for use only when rainy weather forces all of us to be down below in the boat together. We will be able to make the boat comfortable in this situation. We are sure you realize this week is an outside/outdoor adventure for the crew.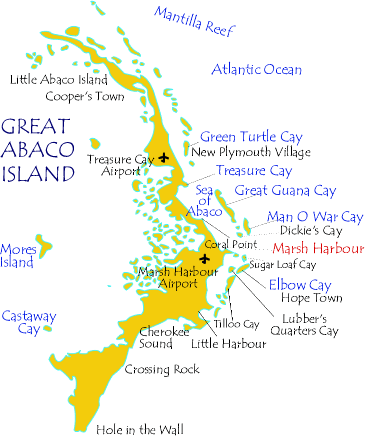 Where are the Abacos, Bahamas?
The area that your sailing adventure will take place is in the Abacos, Bahamas. The Abacos are a cluster of islands in the Northeast area of the Bahamas islands located due east of West Palm Beach, FL. The beauty of where we sail in the Abacos is that it is protected by a necklace of islands that blocks the ocean waves and swells. We get the wind for great sailing but none of the big uncomfortable seas. And the coral reefs you will dive are some of the best in the world! Come and enjoy this paradise with us!
At the end of the week, as you have completed the Ciganka High Adventure Sailing program you will have earned your patch and ball cap, compliments of Captain Thomas & "Admiral" Linda
Ready to Book your Trip?